A natural fit from the beginning, Spencer joined King Estate for the 2012 harvest. In two short years, he moved up the ranks to assistant winemaker before being named winemaker in early 2016. Spencer developed a love of wine while waiting tables in Georgia during his pursuit of a marketing degree. In 2004 he moved to Sonoma to work his first vintage with Ravenswood and three years later, realized it was truly what he wanted to do with the rest of his life. He decided to go back to school at Lincoln University in New Zealand to earn a degree in Oenology and Viticulture. Spencer immersed himself in school and hands-on learning from 2006-2008, and upon his return to the U.S., Spencer rejoined the team at Ravenswood, this time as contract winemaker. In 2009 he took an assistant winemaker position at Bargetto, the oldest winery in the Santa Cruz Mountains. It was in Santa Cruz that Spencer met his future wife whose job relocated them in 2012 to Eugene where he joined King Estate.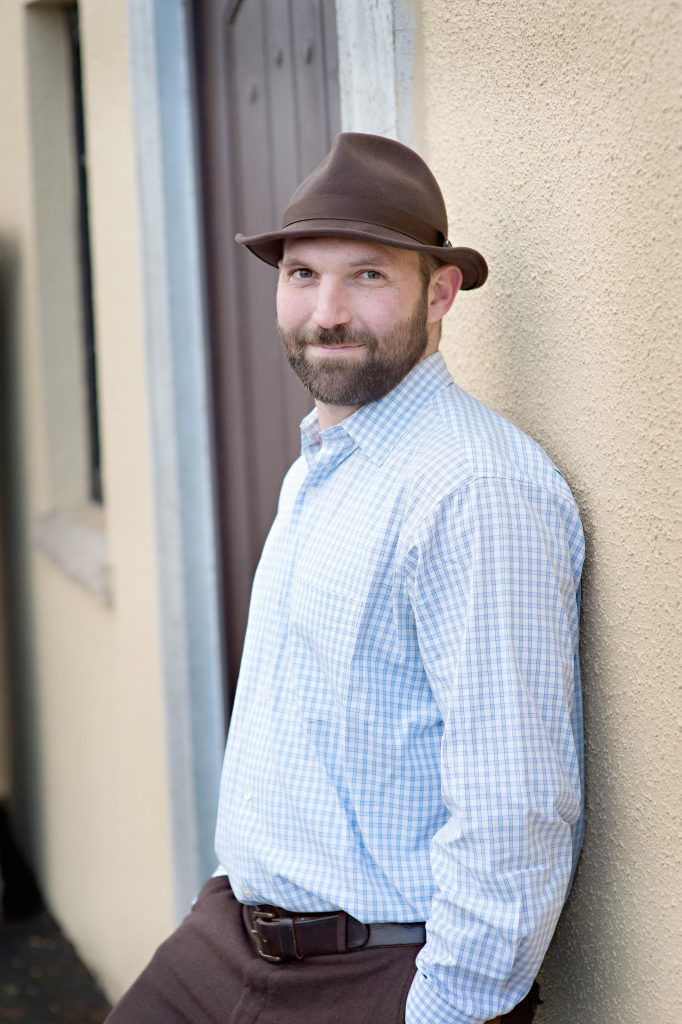 OL: Most people in this industry can trace their love of wine to a specific wine that ignited their passion. Do you have a wine like that? If not, how did you get interested in the industry?
SS: My first experience with a life-changing bottle of wine was when I was working in fine dining in Atlanta. The first wine that taught me the depth and breadth that wine could have was Joseph Phelps' 1985 Insignia (it was a Bordeaux blend of cabernet sauvignon, merlot, cabernet franc). I never knew wine could finish for that long. It was so rich, with layers that never stopped. Even while the bottle was open (throughout a 90-minute meal) it changed every time you went back to it.
Learning how wine varies by region and even within the same varietal, and how to pair wine with fine food all came from that fine dining experience.
OL: Have you had any mentors who've helped your career grow?
SS: I don't have just one. Rather, I've learned something from every winemaker I've worked with. Everyone I come in contact with, not just winemakers, has something to teach me, and I try to absorb as much knowledge as I can from every work experience. One reason I went to New Zealand was to see different styles of winemaking. I guess you could say that everyone I come in contact with is a mentor.
OL: What drew you to King Estate and what are some of your favorite things about working there?
SS: My wife's job at the University of Oregon brought us to Eugene, and I was fortunate that there was a well-regarded winery, King Estate, nearby that had the ability not only to take me on but to give me opportunities for growth and advancement. Once I was here I fell in love with our focus on sustainability. It is genuine, authentic and impactful. On top of that, I love being at a winery where I'm actually in the middle of the vineyard. Our setting is stunning. It's amazing having a world-class restaurant and charcuterie right here on site. The team atmosphere is strong and I get to work with terrific colleagues.
OL: Do you feel like you have a signature style as a winemaker?
Even though I'm 12 years into it, I think I'm too young in my career to have a signature style. I've changed over the course of my career and am still changing and growing. With each move to a new growing region – from Sonoma to New Zealand to Santa Cruz and now Oregon – I've learned that I definitely can't do the exact same thing every time. At King Estate I'm trying to make sure I carry on the impressive legacy and style of wines we're known for. There's been a King Estate style that has developed over 25 years. The winery has a history of knowing how to get the best out of the grapes. My thumbprint may be on the wine but I do my job within the framework of what I inherited and what I'll eventually pass on.
OL: As a winemaker, have you ever made a mistake in a vintage? 
SS: Usually I'm very good at self-deprecation and of course I'm sure I have made mistakes. But in all honesty, I can't think of a specific one that really stands out. I haven't really thought about it before but now that I do, I think I've never considered something a mistake because it's all part of the learning experience. Any issue I've ever had I've tried to learn from, so possibly I don't think of them as mistakes. I'm happy to say I've never done anything to ruin the wine.
OL: I know that sustainability is a core focus for King Estate. How did that come to be, and how do you see this trend affecting the industry as a whole?
SS: Like anything, it starts at the top. Our CEO, Ed King, is the driving force behind our commitment to sustainability, and he and the King family have instilled that ethic throughout the company. Ed likes to point out that from 10,000 B.C. to 1945 A.D. all agriculture was organic. Many of the environmental and health problems of the late 20th and early 21st centuries are the result of modern agricultural practices. We're becoming Demeter certified because we share the vision of healing the planet through agriculture. King Estate is family owned and farmed, and the family feels a strong sense of obligation to future generations. We think what's good for the land is also going to be good for the wine.
OL: In what ways do you see yourself and King Estate growing over the next few years?
SS: I see nothing but blue sky ahead for King Estate. We're celebrating our 25th anniversary this year which is a good time to take stock of where we've been and where we're going. The company has experienced phenomenal growth and success nationally and even internationally while remaining a local family business that is dedicated to a tradition of quality and environmental stewardship. I expect the next 25 years to bring more of the same, and I'm sure there will be some fun surprises along the way as well. For me personally, being the senior winemaker is still a new role. It's what I set out to do and have worked for over the last 12 years. My goal for the next few years is to continue to get more comfortable in that role, to that point that I can be secure in the knowledge that I am doing the right thing at each step of the process. I want to continue the legacy of making world-class wine.