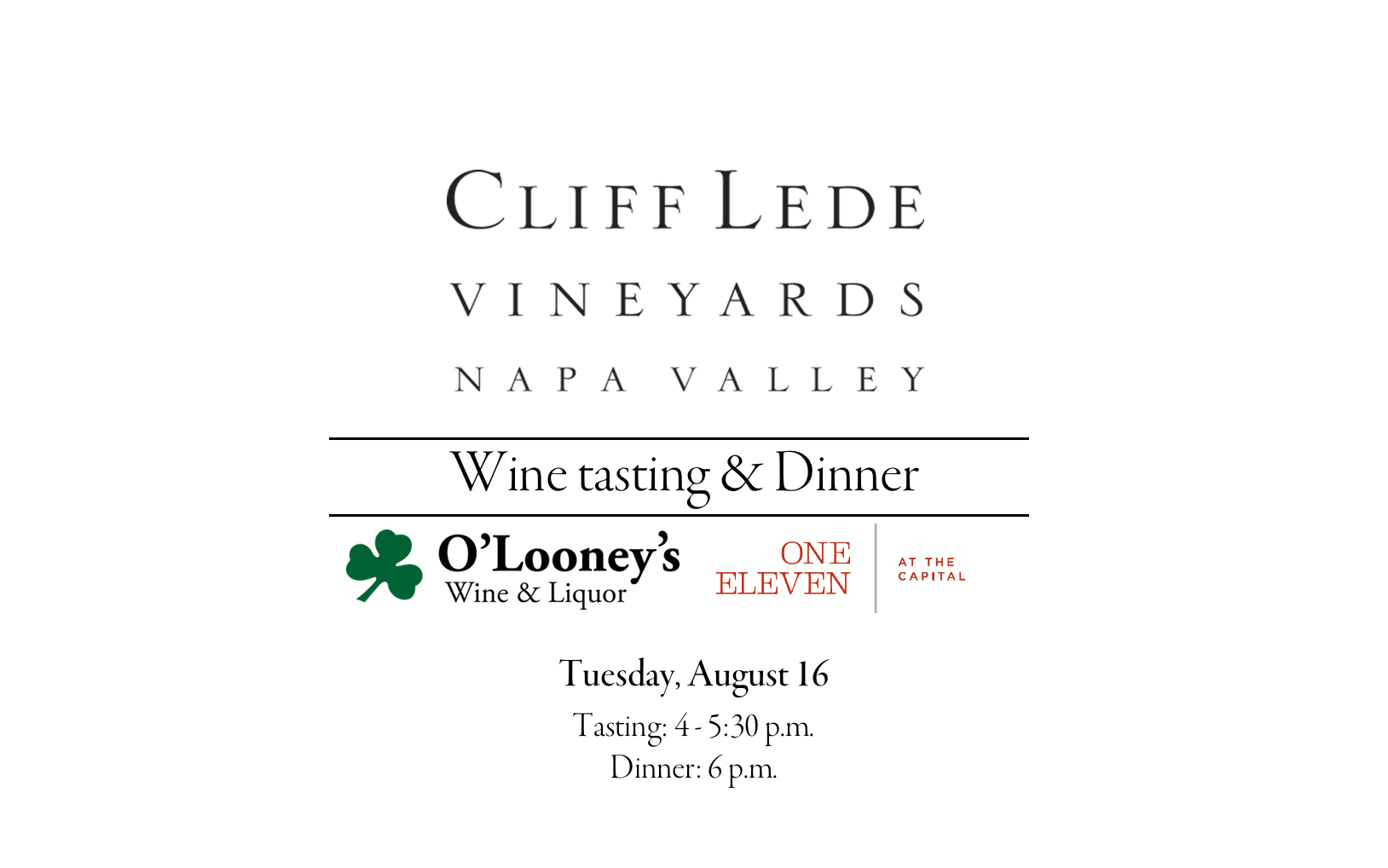 We're partnering with One Eleven at the Capital Hotel to offer an evening of incredible wine and food. 
Join us on Tuesday, August 16 for a wine tasting featuring the wines of Cliff Lede Vineyards. Jason Lede, the son of winery founder Cliff Lede, will be pouring his wines in our store from 4pm until 5:30pm.
Afterwards, at 6pm, enjoy these incredible wines again with an amazing dinner at One Eleven at the Capital Hotel. Tickets for the dinner may be purchased here.
Established in 2002, Cliff Lede Vineyards encompasses sixty acres in the famed Stags Leap District. Cliff Lede, Vineyard Architect David Abreu, and Winemaker Chris Tynan have come together to form an unrivaled team, making the most of this remarkable property.
Featured Wines
Cliff Lede Stags Leap District Cabernet Sauvignon
Inky purple with blood-red tinged edges, the elegant and seamless 2013 Stags Leap District Cabernet Sauvignon's multilayered perfume fills the glass with notes of violets, lavender, and spring flowers. Intertwined with the floral notes are heady layers of plum, blackberry, and red currants. Silky, unctuous flavors of smoked cardamom, cinnamon, and black licorice lay out on the palate and finish with the taste and texture of liquefied rocks.

Cliff Lede Sauvignon Blanc
The 2015 Sauvignon Blanc is loaded with aromas of Meyer lemon and candle wax atop layers of honeysuckle, ginger, and tangerine. Spring blossoms of wisteria, lupin, and California buckeye abound in the upper register of the seductive perfume. The full-bodied, coating mouthfeel expands out on the palate with a rich crème brûlée like texture as unctuous notes of bosc pear, orange marmalade, and lavender honey coalesce along the long, satisfying finish.

The aromatics of this wine are bright with sweet notes of black cherry, pomegranate, boysenberry, and truffle. Hints of cinnamon, caraway, and toast are reflective of both Anderson Valley's spice driven terroir, and the extended aging in French oak barrels. In the mouth, the wine is loaded with rich flavors of dark fruit, cocoa, and spice. The palate is refined with pleasant acidity and elegant tannins that continue to unfold after the last sip. This is a generous wine that will continue to evolve and drink well for at least half a decade.

When crafting a wine like the FEL Anderson Valley Chardonnay, a winemaker is rewarded for using a light touch and letting the fruit speak. By not using new oak and avoiding malolactic fermentation, this Chardonnay's delicate aromas of lemon zest, Granny Smith apple, and honeydew melon are front and center. Subtle hints of freesia, quince, and brioche begin to show as the wine develops in the glass. This is a crisp, acid driven Chardonnay with abundant flavors of Meyer lemon and white grapefruit on the palate that pairs exquisitely with oysters and light seafood.

We hope you'll join us on August 16 for this chance to taste these incredible wines!
Tasting: 4:30 – 5:30pm
Dinner: 6:00 pm