When the temperatures rise, we turn to white wine, Champagne, and beer to keep us cool. Check out what the staff of O'Looney's has been drinking this month. 
Pehu Simonet "Selection" Brut Champagne
I'm not typically a fan of Brut Champagne. Having a bit of sweet tooth, I've always found myself drawn to sparkling wines with a bit more sugar, those labeled "sec" or "demi sec," but I found a lot to love in this little grower Champagne. It hails from Verzenay in the far north of the Champagne region and is made of pinot noir and chardonnay (70% and 30%, respectively). There is, of course, the wonderful almond and hazelnut nuttiness, that we all love in Champagne, but here it's backed by a strong minerality with notes of flint and chalk. There are subtle hints of fruit, most notably lemon cream and pear. I pair it with fried chicken or a breakfast of Dutch baby pancakes and bacon.

– Seth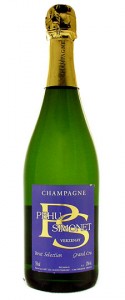 Pine Ridge Chenin Blanc + Viognier
This is my favorite white wine for summer. It's slightly spritzy with a great balance of fruit flavors and acidity.  Big floral and tropical fruit aromas compliment this medium bodied, off-dry beauty.  This is one of the best values for great white wines and I highly recommend giving it a try.
   
 – Susie

Zweigelt is the most widely planted red grapes in Austria, and makes a light and fruity wine. This wine has a beautiful dark ruby color with notes of dark, ripe cherry. There are unmistakable flavors of ripe fruit, berries, and a touch of spice. It's tannins are soft, making the wine only slightly dry and a perfect match for food.
 – Ty

Domaine Corinne Perchaud Chablis Premier Cru Vaucoupin
Plantings in the Vaucoupin vineyard are only 3.5 acres. This site is one of the few south-facing slopes in the region giving the vines longer sun exposure allowing them to ripen more. Another advantage of the site is the Kimmeridgian limestone soil that gives the wines their unique characteristics. The wine is aged on its lees in barrel for sixteen months before release, which tames the tart acidity and gives it a rounder mouth feel.
 -Keegan

Grapes for this wine were chosen solely for their quality and flavor layered flavors of ripe red, blue and black fruit for rich, full-bodied structure and length. Underpinning these flavors are hints of new leather, brown sugar, spice and cocoa that wrap around a smooth mid-palate full of velvety texture and depth. On the long finish, you'll find suggestions of toasty oak, vanilla, and pepper framed by firm tannins.
 – Richard


Flyway Brewing "Migrate" Pale Ale
Flyway Brewing is one of the latest developments in the growing Arkansas craft beer scene. Since opening their brewpub in Argenta late last year, they've been producing some consistently good beer that has been showing up on more and more taps around Little Rock and the rest of the state. So far the reception has been great, and we are happy to finally have Flyway beer for sale in our store. This Migrate Pale Ale is a wonderful example of the style that really emphasizes a balance between the grains and the hops. The beer pours a beautiful reddish caramel brown with a fine white head, aroma is of cereal grains with flavorful hoppy overtones. Taste follows the nose with bready toasty grains, a crisp hop finish, and very little bitterness. This beer is has a great flavor and nice carbonation and would be quite sessionable, especially in the warmer weather.
– Spencer