At some point in every wine drinker's life, they've purchased a bottle simply because of the design of its label. I do it, you do it, we've all done it, and it's perfectly fine! The truth is that wine labels can not only be entertaining and engaging, but a well-designed label is full of information. 
Historically, wine labels have been bland and uninteresting, but recent changes in the industry have lead to an incredible variety of label shapes, sizes, and designs. While a good label is supposed to be eye-catching and enjoyable, its primary purpose is to convey information about the wine.
Wine labels, especially imported wines from Europe, can be somewhat confusing when compared with their American-made counterparts. The typical parts of an imported wine label are labeled below.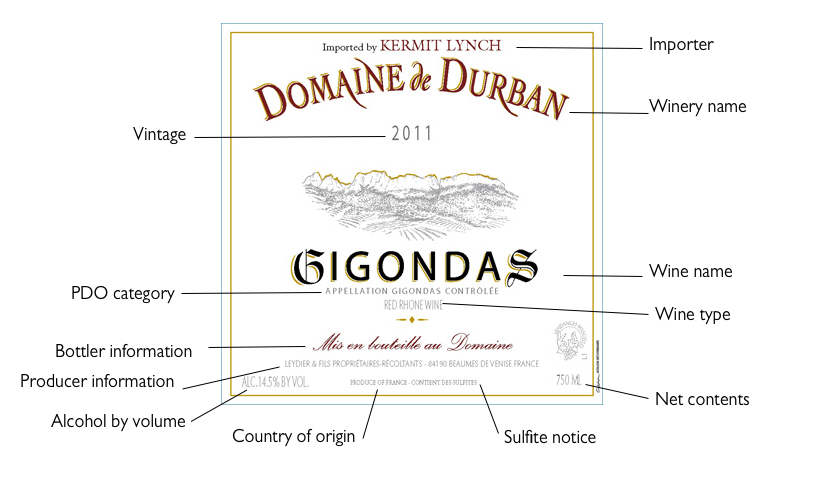 The importer: This wine was brought to the U.S. by wine importer Kermit Lynch.
Winery name: This wine was produced by the Domaine de Durban winery located in France's southern Rhone region.
Wine name: Gigondas is the name of the region where these grapes were grown, and the Domaine decided to keep that name for this wine.
Wine type: On the label it is simply "Red Rhone Wine," but this wine is actually 70% grenache and 30% syrah.
Net contents: All standard wine bottles hold 750ml.
Sulfite notice: The U.S. government requires that all food products that contain sulfites to be labeled as such. All wines naturally contain sulfites.
Country of origin: With all imported wine, the U.S. government requires that the country of origin is noted.
Alcohol by volume: The alcohol level of the Gigondas is 14.5%.
Producer information: This is the name and location of the winery. The text here reads "Leydier & Fils," or "Leydier & Sons," as Domaine de Durban is now run by three generations of the Leydier family.
Bottler information: This tells us where the wine was bottled. "Mis en bouteille au Domaine" roughly translates to "bottled at the winery."
PDO category: Within every wine-growing region, there a legally defined geographic areas called Protected Designated Origin (PDO). In America, we call these "American Viticultural Areas (AVA), but in France this is translated as "Appellation d'origins Protégée," and this label tells us that this wine was grown in official Gigondas area.
Vintage: The vintage, of course, tells us the year in which the grapes were grown and harvested.