Shamrock Selections is a monthly subscription service that brings you the best wines from around the world. Each month's selection is carefully chosen by the team of sommeliers at O'looney's. They keeps a keen eye out for wines that are unique, rare, and new to our market. Shamrock Selections is ideal for enthusiasts and explorers who delight in finding hidden gems and trying new, exclusive vintages. Each month, you can join us on a journey of sampling and learning about some of the greatest wines in the world. Each selection of wine comes with detailed tasting notes and food pairing suggestions from our team.
2017 Weingut von Winning Deidesheimer Paradiesgarten Riesling, 1er Lager Trocken
Imagine yourself in the scenario that I (and this is Seth writing) found myself in last October: I'd just spent almost 18 hours traveling from Little Rock to Frankfurt Germany, I'd been unable to get more than two hours of sleep the previous night due to jet lag, and I had just sat through a four-hour tasting of some 30ish wines without so much as a cracker. Belive me when I tell you I was a mess in more ways that one. 
I was starving and looking for food when I left my morning marathon tasting. I couldn't get my phone to work so I pulled into the first roadside restaurant I could find. That restaurant was the Restaurant Leopold in the town of Deidesheim and, as I would soon come to find out, was attached to the winery of Weingut von Winning (weingut is German for winery). 
I'd actually heard of von Winning before, as they're the only German winery to specialize in sauvignon blanc, so needless to say I had a glass of it with lunch (schnitzel, of course). After lunch and several glasses of water, I wandered into the winery and found myself at their tasting bar. The servers were happy to see an American sommelier at their bar and asked if they could pour me a taste of something special. Never one to turn down free wine, I said "of course!"
The wine they poured me was the 2016 vintage of the wine you're getting today, their 1er lager riesling from the Paradiesgarten (garden of paradise) vineyard. By now, you're likely familiar with 1er being written on French wine labels to distinguish a wine from a "premier cru" vineyard site. It means the same thing on German labels, though in this case 1er is pronounced "erst" (rhymes with first). The Paradiesgarten vineyard is located just north of the restaurant/winery on a hill overlooking the town of Deidesheim. It's perfectly situated to collect day-long swaths of sunlight making for dazzling dry riesling. 
I fell in love with this wine in Germany and I knew that I had to get it into your hands. Now, some nine months later, we're finally making it happen! What first struck me about this wine is the way its flavor profile is in a constant state of evolution in the glass, like there are swirling clouds of lime pith, peach fuzz, and slate all combining in a category five hurricane. This is absolutely the kind of wine that you can come back to over and over again throughout the course of an evening and find something new each time. 
As this is a dry riesling, you might want to rethink some of the spicy pairings riesling is often known for. I've now drained a few of these bottles and, out of all the pairings I tried, I thought it was at its best with sushi. I also tried this with some lovely homemade Korean barbeque with spectacular results!
Also, if you haven't tried it yet, be sure to pick up a bottle of the von Winning rosé. It's a rosé of pinot noir, and I think it's safe to say that it's my personal (and hopefully yours as well) wine of the summer!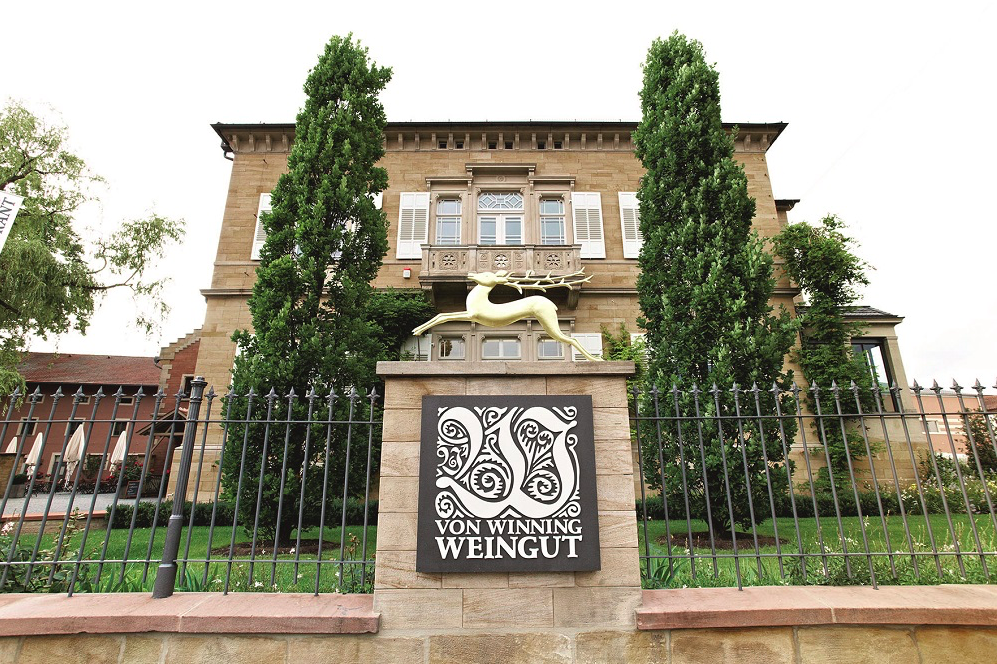 2015 Mas Champart Saint-Chinian Rouge "Causse du Bousquet"
We keep a running list of wines featured in Shamrock Selections over the past few years, and sometimes, when mulling over what wines we should search out for future months, it's helpful to look back and see what we've done in the past. In doing so, it's easy to see that there's one red grape that has been featured more than any other in the history of Shamrock Selections — syrah. 
This is for several reasons, a key one being that loving syrah is practically a requirement for employment at O'Looney's, but the largest reason is that syrah, regardless of where it's grown, is often undervalued when compared to other, flashier wines like pinot noir and cabernet sauvignon. Take France's northern Rhone Valley, where syrah reigns supreme; the region's most expensive wines top out at around $300-$400. Compare that to regions of Bordeaux and Burgundy where bottles from top producers can easily come in at over $1,000 and you begin to see what I mean. 
Out of all the regions in France that grow syrah, there's likely no greater place to look for great value wine that the small region of Saint-Chinian. Located due east of Toulouse, in the mountains above the Mediterranian, Saint-Chinian is a commune of about 1,800 people that can trace its history back to the Romans (who thankfully introduced grapes to the region almost 2,000 years ago). 
The region is known in France for its wines, but they've never really caught fire in the international wine scene, likely being upstaged by all that pretty Provencal rosé, which, really, is all the better for us, because, were the region more famous, a winery like Mas Champart would be a household name. Isabelle and Matthieu Champart, a husband-and-wife team, began growing grapes in 1976, but it wasn't until 1988 that they actually bottled their first wine. Matthieu still looks after the vineyards while Isabelle makes the wine. 
This wine the "Causse du Bousquet", (roughly translated as "limestone plateau of the little forrest") is a blend of 74% Syrah, 6% Grenache, 4% Cinsault, 6% Mourvèdre, and 10% Carignan, and the result is an inky black wine with richness and depth. At four years old, this wine is just a baby. You could easily lay this down for another 15 years and let it really develop. If you do, or even if you don't and decide to give it a long decant one evening, you'll find a delicate balance of smokiness (from all that syrah) with the flavors of wilderness that is southwestern France. There's an air of savory herbs, like sage and rosemary, and even a hint of violets from the carignan. Underneath it all, there's the grenache supplying a current of cherries pie and fresh blackberries. When you think of food, lamb and beef are classic pairings. If you'd like something a little more experimental, try it with Mexican mole, Morrocan tagine, or even that delicious north African fried chicken that you get for dinner at The Root on south Main Street! 
Want to join Shamrock Selections? There's still time to subscribe in order to get next month's selections. Use the link below to subscribe!