We're excited to announce a new line of alcohol flavored ice creams from Loblolly Creamery! We've been working with our friends at Loblolly Creamery to create seven amazing ice creams and sorbets flavored with some of our favorite wines, spirits, and liqueurs. From now until the end of the year, we'll be selling these small-batch flavors exclusively from our store, with a new flavor debuting every other week.
There are lots of wine ice creams currently on the market, but after doing some research, we couldn't find a brand that delivered the flavors we wanted . . . so we decided to make our own! Loblolly Creamery is already known for making some of the best ice cream in Arkansas, so when it came time to find a partner, they were a natural fit. After collaborating with their experts, we came up with a range of flavors that you're going to love. Check them out below!
Available: Oct. 19 – Nov. 1
Our first flavor is inspired by hot chocolate around the campfire. We've taken Loblolly's wonderful milk chocolate ice cream and combined it with Ancho Reyes chili liqueur. The result is a luscious chocolate that finishes with a warm, sultry heat. It also contains cinnamon, honey, and just a touch of jalapeño to give it a subtly spicy edge (We like to call it a creeping heat!)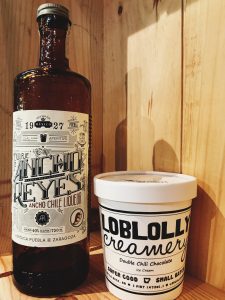 Available: Nov. 2 – Nov. 15
Amarula, the delicious liqueur made from the fruit of the African Marula tree, is combined with nuts and fruit for a delicate and sweet flavor.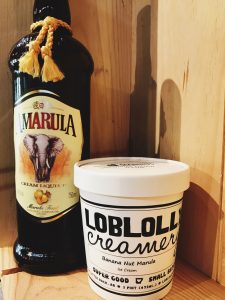 Pumpkin Spice Irish Cream
Available: Nov. 16 – Nov. 29
It just wouldn't be fall without pumpkin spice! We've combined with delicious ice cream Bailey's Irish Cream to create an instant classic.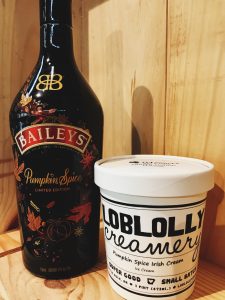 Available: Nov. 30 – Dec. 13
It may be cold outside, but this ice cream has us feeling tropical with its combination of Plantation Pineapple Rum, pineapple chunks, and sweet vanilla cream.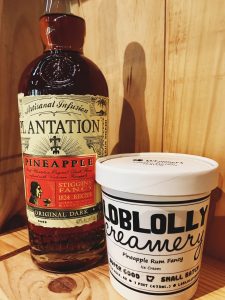 Available: Dec. 15th at the Historic Arkansas Museum's annual Nog Off
We've added St. Elizabeth's Allspice Dram to classic eggnog for a one-of-a-kind, Christmas inspired treat.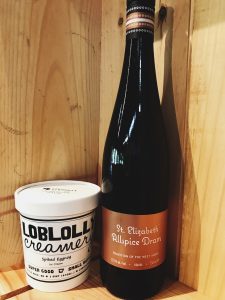 Available: Dec. 14 – Dec. 27
We couldn't think of a better cocktail to turn into a sorbet than the classic Negroni. Our sorbet version uses Dolin vermouth, Hayman's Gin, and Campari. With just a hint of orange garnish, of course!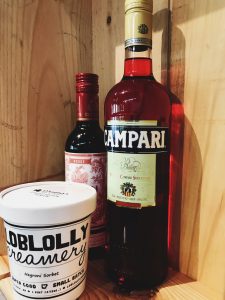 Sparkling Elderflower Sorbet
Available: Dec. 28 – Jan. 4
You can't celebrate New Years without bubbles! That's why we've combined Asti Cocchi, a beautiful sparkling wine from Italy, with the delicate St. Germaine elderflower liqueur.