Check out this month's staff picks. See something you like? Add it to your cart, buy it online, and pick it up in store!
The Eyrie Vineyards Pinot Blanc
Where has this wine been all my life? I'm a long time member of the Pinot Blanc fan club, but wheeeeeew, was this a welcome sight: a light-bodied wine with tropical notes that wasn't a Napa Valley Sauvignon Blanc. Let me tell you – I. AM. HERE. FOR. IT. [insert praise hands emoji] This is what I'm drinking all summer long. Get your bottle before I buy them all.

– Seth
No products were found matching your selection.
Catherine & Pierre Breton Trinch!
It's about to be 10,000º outside and I just can't handle a big Napa Cabernet when I'm dinning al fresco. This is when I turn to Cabernet Franc, one of Cabernet Sauvignon's parent grapes, for relief. This wine comes to us from France's Loire Valley and, here's the kicker, you can serve it chilled. Yes, really! Pop it in the fridge for 20 minutes and thank me later.
-Keegan
No products were found matching your selection.
O'Looney's + Loblolly Creamery Limited Edition Flavors
We've partnered with the amazing Loblolly Creamery to produce a line of alcohol-flavored ice creams and sorbets that are available exclusively at O'Looney's. We'll have two flavors all summer long: Double Chili Chocolate and Sparkling Elderflower. We'll also have flavors that we'll rotate in and out. Currently we have a delicious margarita sorbet!
 – Alex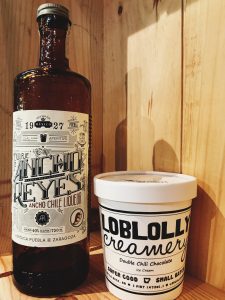 Charles & Charles Riesling
This excellent, single vineyard Riesling is everything one can want from a Washington wine. Its sweetness is held in balance by a taut acidity. The resulting wine is gorgeous and full-flavored with aromas driven by stone fruit, mineral notes, wet rock, citrus, and floral scents. Its palate has a beautiful focus with lingering notes of honeysuckle and lime.
– Spencer
No products were found matching your selection.
Vino Verde isn't actually green like the name suggests. "Green" is meant to signify that it's a young wine. This is the perfect thing to sip on during a hot afternoon. It's very light and slightly spritzy. It has a low ABV, which means you don't have to worry about drinking too much throughout the day.
– Dominique
No products were found matching your selection.
Bouvet-Ladubay Signature Brut
Bouvet-Ladubay is a sparkling wine from France's Loire Valley. The limestone subsoil is ideal for the cultivation of Chenin Blanc, and the mild climate coupled with the excellent drainage of the clay creates the natural acidity needed to produce a balanced sparkling white wine. This wine is full of bright acidity and the flavors of baked apple, brioche bun, and pear.
– Mr. Baker
No products were found matching your selection.