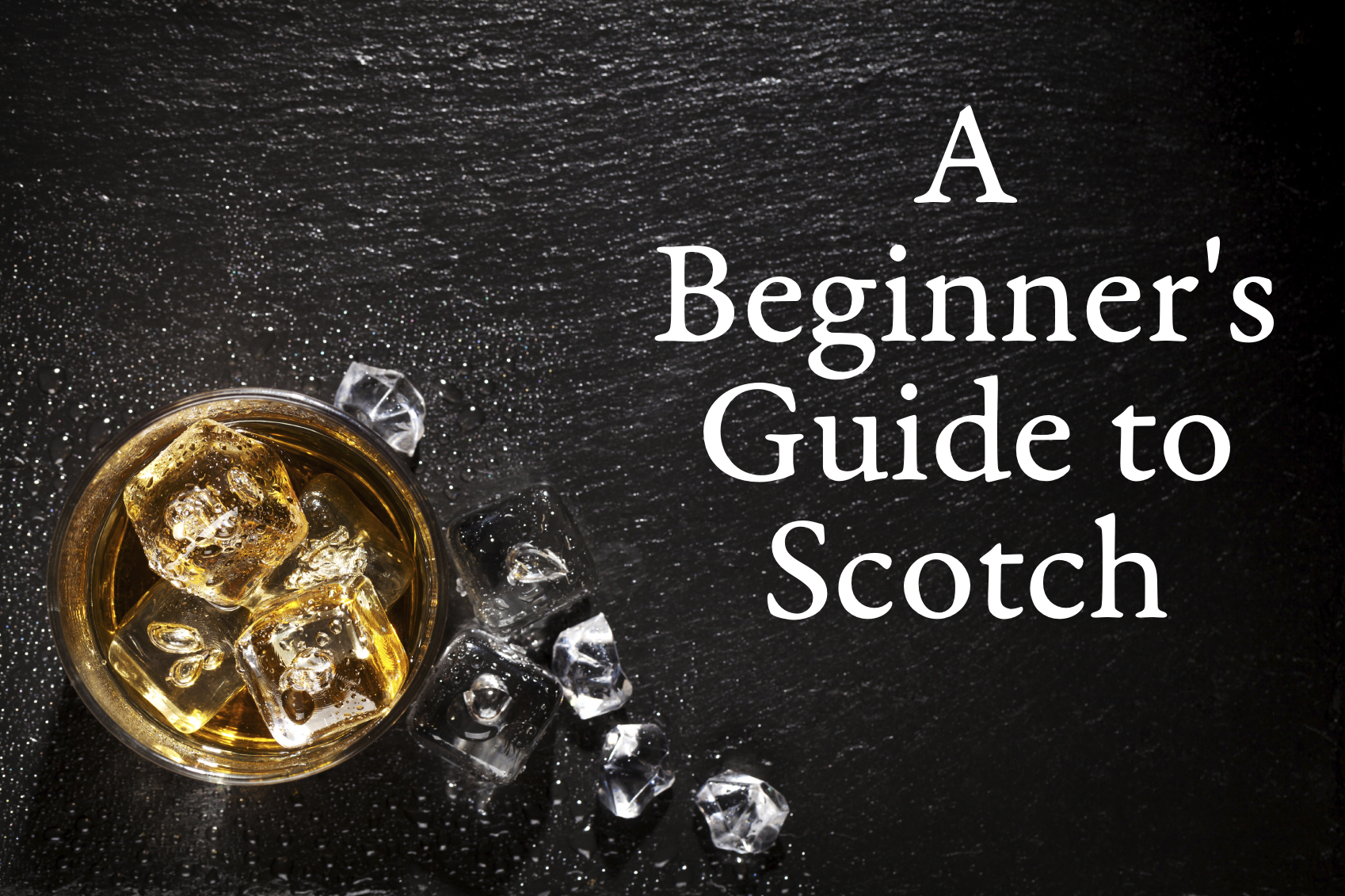 If you're not a regular scotch drinker, the many different terms and locations that are involved can be confusing. Hopefully we can clear up a few of these terms and give you a little bit of a guide when trying out a new drink.
A single malt is a whiskey made entirely from malted barley from a single distillery. Most of the whiskeys in our store are single malts.
Single grain means that contrary to what the name implies, the scotch can be made from a mix of barley, wheat, rye, or corn and must come from a single distillery. In general, single grain scotches are cheaper to produce because they're not entirely barley based, and barely is the most expensive grain. Nikki Coffey Grain is the only single grain we carry.
Blended scotch can be a mixture of grains and is a blend of different distilleries' production. These can be extremely cheap or extremely expensive. Examples include Johnny Walker, Chivas, and Dewars are all blends.
Much like wine, single malts express regional styles. In Scotland, the main regions are the Highlands, the Lowlands, Islands and Skye, Islay, Speyside, and the Coastal West Highlands.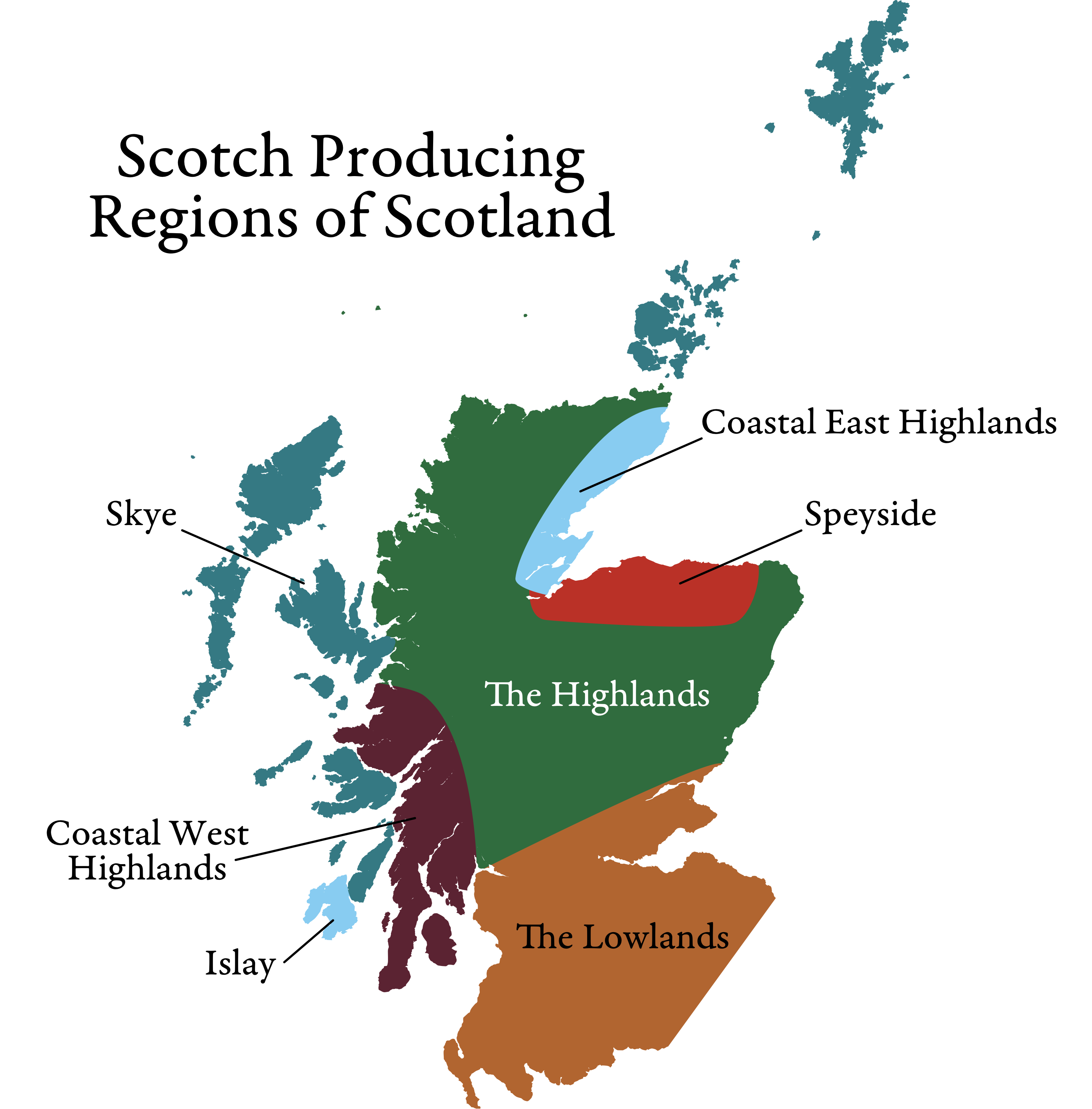 The Highlands are the largest and most diverse region. Most of the scotches produced here can be described as light, sweet, and fruity, but this belies the broad range of scotches the region has to offer.
The Lowlands are home to most of the distillation in Scotland, however, most of this is grain whiskey destined for blends. The few remaining single malt producers here are known for triple distilling which produces a light, easy drinking scotch. Glenkinchie, and Auchentoshan are the main two but there are plans to open more in the region.
Speyside was part of the highlands until 2009. It produces more than 60% of all single malt scotch made in Scotland. It largely produces scotches similar in style to highland whiskey and is the home to Glenfiddich, Glenlivet, and Macallan. Those distillers collectively makeup one-third of the single malt market and are all from Speyside.
Distillation in the Coastal West Highlands is centered in the town of Campbeltown, which was once home to more than thirty distilleries. Now that number has shrunk to three: Springban, Glen Scotia, and Glengyle. Stylistically, the region is hard to pin down as each distillery has a unique style, but they are all by notes of smoke and brine.
Island scotches, especially, the Isle of Skye, are all uniquely affected by the sea. The main islands to know are Arran, Mull, Jura, Skye, Lewis, and Orkney. Many of these islands were home to illegal distilleries trying to avoid heavy taxes. The styles are too disparate to describe a common character as each one is a one of a kind representation of its home island. 
Islay is the southernmost island in scotch producing island in Scotland and is considered its own unique region. There are eight distilleries currently operating on the island with more in the way. The style is dominated by the use of peat in the malting process. This gives the whiskeys a distinct smokey flavor that combines with the ocean air to produce a taste that is prized by scotch connoisseurs. 
No matter your experience level with Scotch, there's always something new to try – lets us show you something new next time you're in the shop.