I know what you're thinking. Barbecue and wine aren't your typical go-to's when planning your summer cookouts. For so long, beer has been king of the backyard party, and I'm ready to see wine get its place in the spotlight. 
I'll be the first to admit that pairing wines with the smokey, spicy, often sweet tang of BBQ sauce is a challenge, but I decided to take on the burden for the betterment of both my life and yours. You're welcome. 
Brisket
Brisket is the best thing to ever come out of Texas. I'm sure there are those who would disagree, and that's fine – we all have to be wrong sometimes. Brisket, with its delicate juices and tender, smokey meat is truly one of the finest things that can come from a cow. It's a fickle cut, soft as snow when done correctly, but tougher than leather when mishandled. It calls for a slightly spicy wine with deep flavors to keep it in check.
My recommendations:
Haraszthy Family Cellars 2012 Amador County Zinfandel 
Subtly spicy and very fruit forward, this wine was grown in the foothills of the Sierra Nevada mountains of northern California. You'll find aromas of raspberry and vanilla that are matched with nutmeg and white pepper. It'll keep the meat in balance, letting smoke come through without dampening the dark fruit flavors of the wine.
Green & Red "Tip Top" Zinfandel
Green & Red'S "Tip Top" vineyard rises over 1,700 feet above the Napa Valley floor, giving it both an amazing view and a perfect location for growing hearty zinfandel fruit. This wine is actually a slight blend, having a small percentage of grenache and carménère that gives the wine a subtle hint of smoke and bay leaf. The only problem here is that the wine is so good, you'll have to remember to actually eat the meat.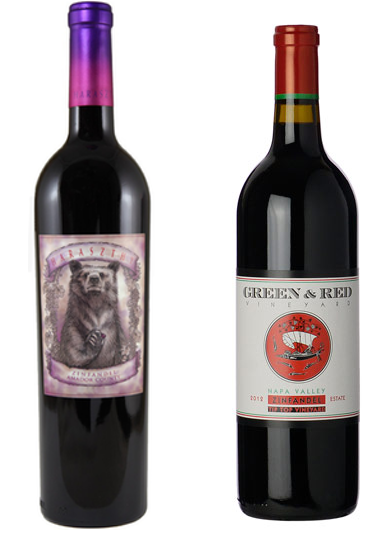 Pulled Pork
Pulled pork can be difficult because of how much it changes based upon where it's cooked. In some places, the sauce can be rich with vinegar, and in others, it can be packed with the fall-on-your-knees goodness of slightly sweet mustard. For either (and anything in between), I'd drink it was dry rosé….yes, that pink stuff. With barbecue. No, I'm not crazy. Why? Because they're served chilled and they're delicious. What more reason do you need?
My recommendations:
Chateau Des Rocs, Cabrières Rosé "Premices" 
Once you get over how impossible to say its name is, this wine is going to knock you down with its red fruit aromas (think strawberry and watermelon). It's a blend of cinsault, syrah, and grenache from the southern coast of France, and before you can tell me that you don't like sweet wines, just stop. This is bone dry, and at 13% alcohol by volume, this ain't your grandma's afternoon sipper. It'll cut through the sauce, and, especially if you're like me and put slaw on your sandwich, balance out the vinegar with fruit.
Raptor Ridge Winery Estate Rosé of Pinot Noir
This is another dry rosé, and this one is practically a fruit salad in a bottle. Strawberry, watermelon, cherry, rhubarb, and pomegranate – they're all here but balanced by an acidity that will cut through the sauce of the pork and take your meal to a whole new level. This is another one that will balance the tang and tartness of sauces and slaws.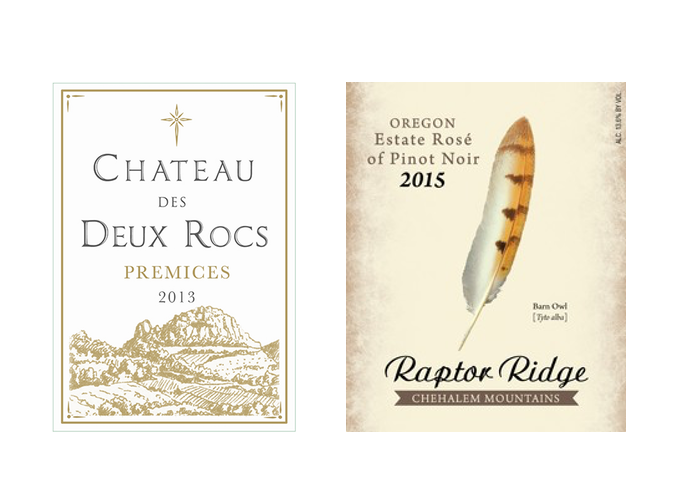 Ribs
Is there anything more glorious in the world than sitting down to eat with a plate full of ribs? Maybe the birth of a child, but I don't have kids so I wouldn't know. Ribs and the minimum three gallons of sauce that come with them are big and bold and they'll need a wine that can go toe-to-toe with them flavor-wise. Syrahs are deep and spicy, one of the darkest wines available, and they're the only thing I reach for when it's rib night.
My recommendations:
Green & Red "Tip Top" Syrah
I know I've already mentioned Green & Red's Tip Top vineyard, but this juice is just too good to skip over. The elevation does wonders to the fruit, producing a wine that's inky black and a full of warm spices like fresh black pepper. It finishes with a note of smoke and sweet wood that develop over time and is typically reflected in the ribs themselves. This is a big wine that needs some time to open up. If you can, I'd recommend decanting for several hours before drinking.
Bell Syrah
This syrah from Bell Winery is unique in that it's grown on a peninsula surrounded by water. This creates constant breezes that give it a slightly more fruity personality than other syrahs. Be on the lookout for blackberry jam, raspberries, white and black pepper, and a tiny little hint of lavender. It's a great match for the sauce that's inevitably going to get everywhere.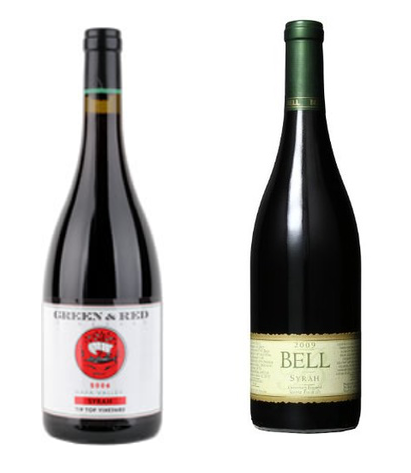 No matter whether you choose zinfandel, a rosé, or syrah, you're going to be hard-pressed to find a better match for your meal than a glass of wine!