It's too hot to drink anything that isn't cold, so it's no wonder that all of this month's staff picks are best enjoyed chilled!
I think this might be my new favorite rosé! It's a blend of syrah, zinfandel, cabernet sauvignon, cabernet franc, merlot, and, of all things,  sauvignon blanc. It is dry but bursts in the glass with notes of red and citrus fruit, and a hint of that sauvignon blanc crispness that take this rosé in a whole new direction. I've been drinking it all summer long and I'm yet to find something that it doesn't pair with. Only 224 cases were ever produced, and you can bet that I'll be in the hunt for every last bottle I can find.

– Seth

Picpoul is a grape grown widely in the Languedoc region of southern France. Its hallmarks are flavors of lime and a focused acidity. These flavors are complemented by a slightly floral note and balanced minerality. This refreshing summer white is a perfect match for fresh seafood and shellfish.    
 – Susie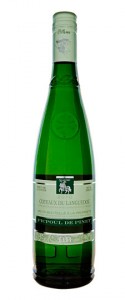 Kim Crawford Sauvignon Blanc
Citrus and tropical fruits are backed by characteristic herbaceous notes of Marlborough sauvignon blanc. It's brimming with juicy acidity and fruity sweetness, providing a balanced flavor profile. The finish is fresh, zesty, and long lasting.
 – Ty

This drier style of riesling evokes an orchard in summertime: freshly cut hay, green pear, Meyer lemon, and orange blossoms. A weighty palate of ruby red grapefruit, ginger, and sour candy follows with a lingering citrus finish.
 -Keegan

Chappellet Winery Chenin Blanc
Elegant and lively, this wine displays a complex and alluring nose of lychee, orange blossom, peach, apricot, lemongrass and white pepper. On the palate, excellent acidity adds precision to vibrant notes of fresh citrus and minerality that carry through to a crisp, focused finish.
 – Mr. Baker


Prarie Artisan Ales Brett C
Prairie Artisan Ales from Krebs, Oklahoma has established themselves as one of the most experimental breweries in the craft beer scene. Prairie Artisan Ales' brews don't fit the mold of "typical" and the Brett C is no exception. Who is "Brett" you might ask? Brett refers to Brettanomyces, a type of wild yeast that gives beer and wine a funky and interesting aroma and flavor. The beer pours a hazy straw yellow with a lively white head and fine lacing. The aroma is citrusy and grassy with a slight savory note and a pleasant Brett aroma. Taste is bright and slightly hoppy with a lingering finish which I love. If you like a saison or farmhouse ale this beer is sure to hit that note in a new and unique way.
– Spencer