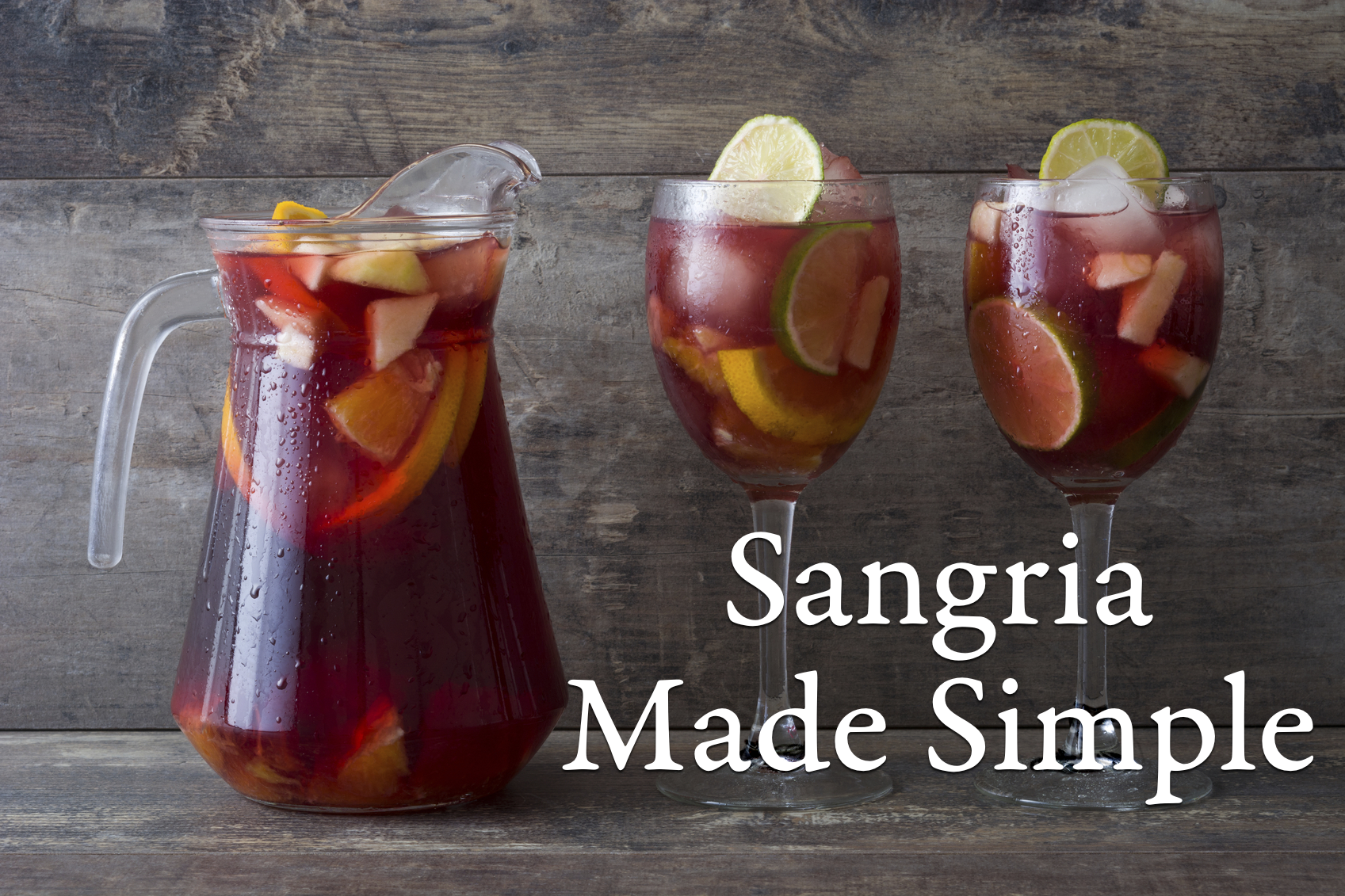 'Sangria' has become synonymous with 'wine punch' for most people, but it actually holds a specific place in beverage history.  Around 200 BC, the Romans swept through the Iberian peninsula, planting vineyards as they went. Historically, wine was added to water to kill any bacteria and make it safe to drink.  2,000 years ago, however, winemaking wasn't the skilled art that it can be today.  Herbs and spices were added to hide any off-putting flavors in the wine.  Eventually, even after potable water became easier to find, the custom was so popular that it began common for people to make their own blends of red wine and herbs. The Latin root of the word 'sangria' is sanguis, or blood.
Wine punches are not limited to Spain. In 1800's Britain 'Claret Cup Punch' was an incredibly popular cocktail.  'Claret' is the name the British gave to the red wines of Bordeaux during this time period. The wine would be mixed with lemon, sugar, carbonated water, and whatever else the creator desired (fruit, bitters, sherry, rum, juice, etc.)
Today, making your own delicious sangria is easy, so long as you follow a few simple steps.  I'm going to cover a white and red sangria, as many people have strong feelings on which is better.
So, red sangria.  The most common question I hear is "What type of wine should I use for sangria?"  The short answer is any wine that you like.  Sangria has no rules.  The long answer is that you should consider what flavors you will be adding and pair accordingly.  Something from Spain- maybe a Rioja, would be a wonderful traditional base for sangria made with brandy, orange slices, honey, and lemon juice.  If you are making something more rich, maybe adding pomegranate, rum, orange liqueur, and blackberries, a cabernet with more tannins would stand up to these strong flavors.  If you are thinking strawberries, raspberries, and rose water, a lovely pinot noir should work nicely.
While it may not be the traditional choice for sangria, white wines create delicious, refreshing drinks for the summertime.  Lighter and more tropical fruits are easier to use in this version as well. If you like sweet wines, moscato makes a great sangria. Peach nectar, raspberries, and strawberry would be a great combination of fruits for this wine. If you like something more crisp, use a sauvignon blanc. I'd use basil to enhance the grassy flavors of the wine alongside pineapple, watermelon, and a touch of elderflower liqueur.
Be sure to remember...
You'll want to use a wine of reasonable quality, but there is no reason to break out the good stuff for a good batch of sangria.

Let you sangria sit for a bit after assembling. Preferably overnight- covered and in the fridge.

If you add liquor to your sangria, you will be fortifying it. If you want to be able to sip on it for a few days or it will be sitting out for a period of time, this is a good idea.

This is a premium idea for when you have lots of random wine to get rid of or someone sends you and over-large fruit bouquet.

Taste as you go.  Yes, the flavor will change as it marinates, but in general, this is a trial and error type of creation and you can always add more stuff.

In Spain, sangria is often served over ice and topped with soda water.  In the Arkansas heat, this is probably a good idea. Wait until the sangria is in the glass to add the soda water- keeps it fizzy.

As far as stemware goes, it will look great on Instagram if you serve in wine glasses with colorful, fresh fruit to garnish.  If you don't participate in this silliness, anything from fine crystal to solo cups will work.

If you don't have much time to let your sangria sit, choose fruits that are soft and/or porous.  I've seen watermelon turn a white wine pink in 10 minutes flat.  Also, in this case, fruit juice is your friend.   
And that's it! You're ready to create an awesome (and custom!) drink. Be sure to let us know when the party is!