My first ever wine-buying experience wasn't a great one. In fact, it wasn't even a good one. Shortly after I turned 21, I went to my local liquor store and began browsing the shelves of wine waiting for something to catch my eye. I was very new to wine, so much so that I still didn't know how to tell the differences between the grapes aside from the fact that they were either red or white. In the end, I settled on a chilled bottle of white wine that had a map of New Zealand on it. I chose it based solely on the fact that I had liked the Lord of the Rings movies and thought I might like a wine from the same country in which they were filmed.
Once I tried the wine I was almost instantly disgusted.  It smelled and tasted like cat urine, and it made my mouth feel strange and tingly. It was even worse than the anything-but-the-kitchen-sink punch that I was used to drinking at parties. Needless to say, I poured the bottle out and decided to stay away from anything called sauvignon blanc again.
Flash forward almost nine years and my opinions have certainly changed. I'm now at a better place to understand what sauvignon blanc is all about. Granted, there are still a few bottles that have that "cat pee" smell, but I'm now at a better place to know what other aromas and flavors are in the wine. Likewise, I now know that tingly feeling that first bothered me was actually the wine's natural acidity, and it's become one of the aspects of the wine that I like most.
So for those of you who have had a problem with sauvignon blanc in the past, or if you're familiar with the grape, but haven't tried many styles yet, this post is for you!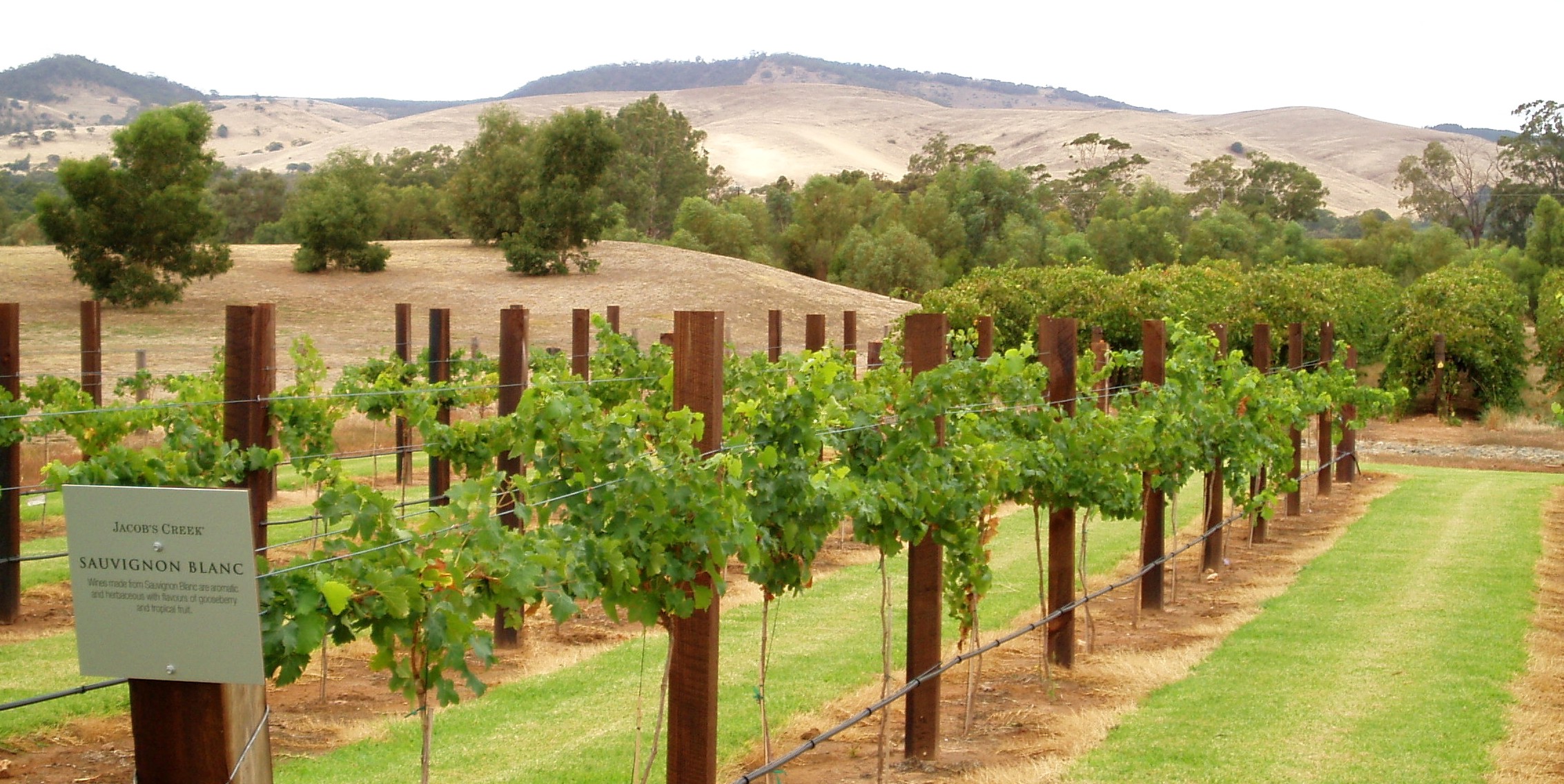 Whats in a name?
Well, a lot, actually. Literally translated, sauvignon blanc means "savage white," which, given the wine's unabashed acidity, is a fitting name. Interestingly enough, sauvignon blanc once crossed with cabernet franc to produce cabernet sauvignon, hence the shared name combination.
Following the French naming tradition, a sauvignon blanc wine from France will be named from the place where it was grown. Sancerre, a village in the Loire valley is probably the most famous French sauvignon blanc, but you'll also find them labeled as Quincy, Puilly-Fume, or Bordeaux.
In the United States, you might find sauvignon blanc labeled as "Fume Blanc" which became typical in the 1970's and 80's when California winemakers were trying to make the grape more attractive to American consumers.
The many faces of sauvignon blanc
More than almost any other grape variety, sauvignon blanc can take on wildly different styles based on where it's made and grown. Here, we'll go through the primary growing regions of sauvignon blanc and point out the biggest differences between styles.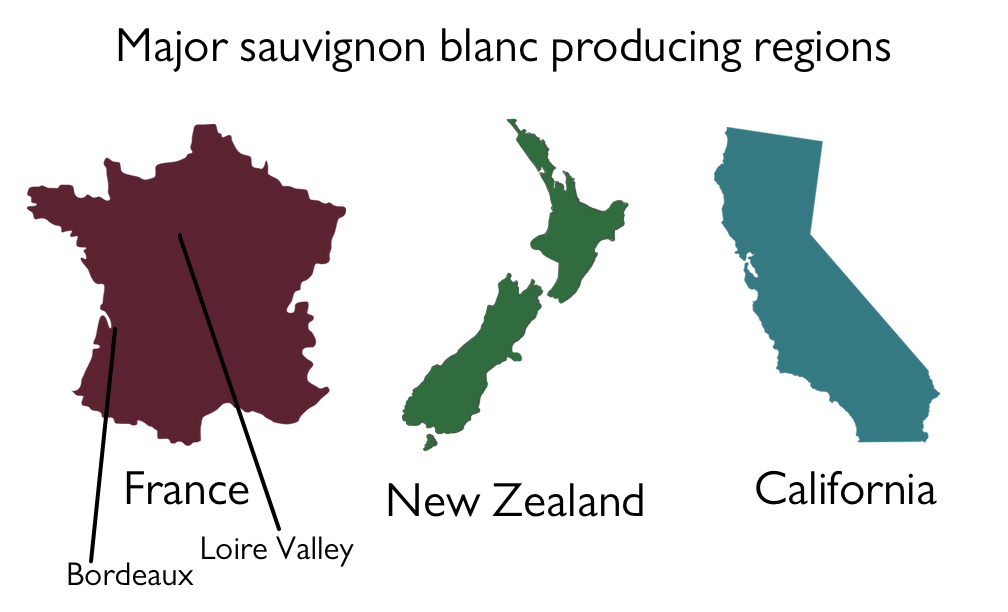 France
Sauvignon blanc in France comes from two primary areas: the Loire Valley and Bordeaux. The Loire Valley cuts through central France and is known for its lush white wines. Sauvignon blanc grown here is known for its strong acidity, green apple notes, and minerality. Loire Valley sauvignon blanc is almost always fermented in steel tanks. Sometimes you'll find a Loire Valley wine that has undergone what's referred to as "lees aging." This gives the wine a slightly creamy texture and can add a subtle note of bread or yeast to the wine.
South of the Loire Valley is Bordeaux, where the grape is blended with semillon to produce Bordeaux Blanc, or white Bordeaux. These wines are generally softer than their Loire cousins. This is achieved both through barrel fermentation and the addition of the less acidic semillon. These two factors combine to give the wines a depth and character that sets it apart from the steel tank-fermented Loire wines.
New Zealand
In the 1980's, sauvignon blanc decided to go on vacation and never really came back. It found a home in New Zealand that allowed it to show its true colors, and the world has been eating it up ever since. These wines retain the classic high levels of acidity but combine it were an array of tropical flavors like grapefruit or kiwi. Like in the  Loire Valley, these wines are fermented in steel tanks and have a unique vegetal note (think asparagus or green beans).
California
Sauvignon blanc in California has historically had to play second fiddle to the wines in France and New Zealand. In large part, this can be traced back to the popularity of California chardonnay, which caused growers to be reluctant to plant the less lucrative sauvignon blanc in their vineyards. A second reason is the lack of a definitive style for sauvignon blanc in California. California winemakers have chosen different paths in their winemaking, using both steel tank and barrel fermentation, barrel aging, blending with semillon, and a number of other tricks to produce markedly different wines.
Pairing sauvignon blanc
Sauvignon blanc's natural acidity makes it an easy wine to pair with food. It's ideal for any dish that contains herbs like rosemary, thyme, tarragon, basil, mint, or parsley. It's also great for foods that are a little bit more rich in fat, such as quiche, a white sauce pizza, or hummus. It's also great for almost any salad you could make!
From now through the end of July, we've got select California sauvignon blancs 25% off! Stop by today and let us find the perfect wine for you.